IKEA Weighted Blanket Review
Weighted blankets are becoming a more popular way to promote relaxation and ease anxiety. They are made of fabric that has been weighted with small pellets. The weight of the blanket is said to stimulate the release of serotonin, which is responsible for reducing anxiety and promoting relaxation. Some people with anxiety or insomnia find that using a weighted blanket helps them to fall asleep quicker and stay asleep longer – because sleeping is important.
People who use weighted blankets often report feeling calmed and more relaxed after using them. The weight of the blanket puts pressure on the body, which has a calming effect on the nervous system.
Seasonal comforters and duvets in IKEA
IKEA has a variety of seasonal comforters and duvets to suit every need. Duvets are especially useful in colder weather, and can be joined together for extra warmth.
All-season duvets are perfect for any season, no matter how hot it gets. IKEA offers four different types of duvets: comforters, cool duvets, warm duvets, quilts and weighted blankets. If you find yourself unable to sleep comfortably under the covers during summer or if you've been waking up in the middle of the night drenched in sweat, a cool duvet may be perfect for you. Conversely, a warm duvet will have more filling and can come with either polyester or down fillings – keeping you cozy all winter long!
And there are the new IKEA Weighted Blankets.
Benefits of IKEA Weighted Blankets
People don't realize the importance of getting a good night's sleep until it starts to affect their health. Poor sleep can lead to all sorts of problems mentally and physically over time.
The Weighted Blanket Revolution has just emerged a few years ago and it looks like it reached the mainstream. Giant bedding manufacturers like IKEA would like a piece from the cake – they anounced that Odonvide the IKEA Weighted Blanket has just been born and is worldwide available to IKEA customers. This way a weighted blanket became available worldwide to the mass.
The IKEA Quality
The brand IKEA was founded in Sweden in the 1950s by Ingvar Kamprad, who started out selling matches to make money. He quickly expanded his business and began to sell furniture, which became very popular. IKEA's legacy is now known all over the world, and it continues to be a popular choice for furniture and home decor.
A lot of people might not know this, but IKEA's concept of furniture that is self-assembled took off after they removed the legs from one of their tables. At a time when most furniture was delivered pre-assembled, IKEA's idea was revolutionary. It allowed customers to save money on transportation and labor costs, and it made the furniture more accessible to a wider range of people.
The IKEA legacy equals to durability, quality and affordability at the same time. The rest is history.
Features of Odonvide – the IKEA Weighted Blanket
The IKEA Weighted Blanket has been sized for one person use, it uses recycled PET plastic pellets to provide the weight sewn into the cotton casing for even weight distribution. And the best thing that it fits well in the IKEA ecosystem – you can choose  from any standard twin size comforter cover – and we all know that IKEA has many to choose from.
There are many features that make the Odonvide Weighted Blanket stand out from other similar products on the market. The box-stitch pattern allows air to pass through and keeps the filling evenly spread, which makes it easy for you to use this product in bed without making a mess or causing uncomfortable ripples of excess material.
Deep pressure offers a calming feeling
3 models fit for different body weights ranging from 40 to 100 kg body weight
Available in one size only: 86″L x 64″W, making it a comfortable option for most bed sizes.
Flammability tested, complies with standard EN ISO 12952-1
It comes without a cover, but you can choose any from IKEA comforter covers
Materials and Options
Fabric: 100 % cotton
Core filling: PET plastic pellets (100% recycled)
IKEA offers a variety of weighted blankets with the same size but different weights.
The IKEA Weighted Blanket is available in three different weight options: 13.2 lb, 17.6 lb, 22.1 lb
The dimensions of all IKEA Weighted Blanket are 86″L x 64″W, making it a comfortable option for most bed sizes.
Thread count: 252 /inch²
Reviewing the IKEA Weighted Blanket
Why you should trust us
We are Corala Blanket. We believe in weighted blankets and we would like to spread the word how beneficial could be to sleep under a heavy blanket like these. We know what we are talking about – we used to develop the Corala Weighted Blanket. We have the knowledge and resource to test any newcomer – just like we have reviewed other manufacturers weighted blankets
How We Tested
We tested a twin size Odonvide weighted blanket weighting 22.1 lb. We tested its ability to get us to sleep and keep us that way until our alarm went off in the morning, and we snuggled up with it on the sofa to see if it could help induce a sense of calm after a long, stressful day at work. (Yes, It helped!)
We've looked at how it is made not just the quality; the comfort it provides, and which options are available.
We looked at care and maintenance instructions, weight, materials, and the competition. We tested many weighted blankets in order to find the best one and we found that the Odonvide weighted blanket from IKEA was the best option for those looking for a comfortable and supportive sleep experience.
TL;DR We found that they are effective for people who find them relaxing and they are well priced – with some minor bugs. However they are not recommended for people with respiratory problems or joint issues, or who weigh less than 50 pounds.
First Impressions
When we saw and touched it in the closest Ikea shop it did not look premium quality at all. But we did not give up, bought some for us, and started to use it. Let's see how it went.
Design and make – It is Not an IKEA hack!
The Odonvide blanket was designed by Maja Ganszyniec of IKEA. It is a high-quality, sustainable weighted blanket made from mixed fabrics. The outer shell is made from cotton and velvety to be soft and comfortable next to the skin. But the weighted blanket is filled with thousands of recycled plastic pellets to provide weight and distribute it evenly. It was a bit disappointing that it is made from plastic – the only relief was that it has been made from recycled PET plastic! Wow! What a great save!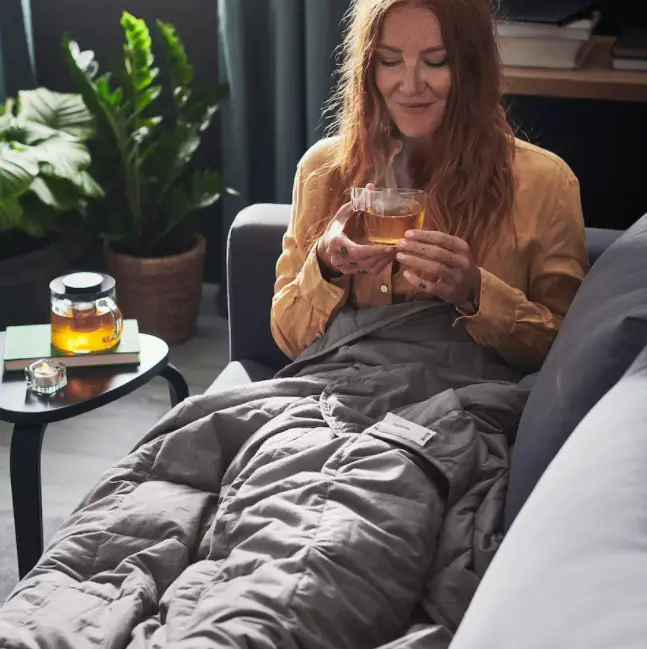 There are countless IKEA duvet covers to choose from designed for different use cases (there are hot and cold covers as well).
Pros and Cons of Odonvide Weighted Blanket
A weighted blanket could be a good choice if you like being tucked under a heavy comforter but don't want the added bulk of it on top of your body because this type of heavy blanket uses deep pressure instead; offering gentle comfort without adding any extra bedding.
Here we have collected all the pros and cons of weighted blankets. Click for the full list!
Pros
Keeps the filling evenly spread

The box-stitch pattern allows air to pass through.
Complies with EN ISO 12952-1, ensuring safety and comfort.
Fits our standard twin size comforter cover perfectly.
Legendary IKEA warranty
IKEA allows to return and change the product

Wide selection of brick and mortar stores

Pellets are made from recycled PET plastic

You can buy it in any IKEA store near to you
Sustainable and environment friendly
Cons
It lacks the loops and cannot be tied together with the cover
Average quality cotton, a bit too thin
Ther is no filler layer – you can feel the pellets underneath
Utilizes pellets made from plastic
Comfort and sleep-inducing powers
Every thing went well – we slept amazing just as we expected. The first time using a weighted blanket might feel odd, but it can be helpful in improving sleep if you get used to it. IKEA Weighted blankets are not worse than any other blankets: they help reduce stress levels and improve sleep quality they are a popular choice for people who want to sleep comfortably and improve their sleep quality. And you can buy it in any IKEA store near to you!
Pro tip: Weighted blankets are often used in combination with other forms of sleep therapy, such as sound therapy or light therapy, to improve the overall quality of sleep.
Pricing Information
Only the weight of the blanket does impact the price. When comparing prices, you should consider materials and construction as well. Weighted blankets from some other manfacturers are made with higher-quality materials and construction, but this may result in a higher price tag. Also the opposite is true: you can buy cheaper models but forget about returning it when it does not fit your need.
The IKEA Weighted Blanket blanket is available in twin size from $64 which qualifyes it in the mid range of the similar weighted blankets.
How Heavy Should My IKEA Weighted Blanket Be?
The general rule for picking the right weight for a weighted blanket is to get one that's as close to 10-15% of your body weight that you can. Lighter than 10% and you might not feel the therapeutic benefits.
The recommended body weight for the 13.2 lb Odonvide weighted blanket is 40-60 kg (88.2-132.3 lbs).
The recommended body weight for the 17.6 lb Odonvide weighted blanket is 53-80 kg (116.9-176.4 lbs).
The recommended body weight for the 22.1 lb Odonvide weighted blanket is 67-100 kg (147.7-220.5 lbs).
The heavier weight is meant to provide a more intense pressure, while the lighter weight is designed for people who want the benefits of the gravity blanket without the extra weight.
Use the Corala Weighted Blanket Calculator to calculate the ideal weight of your weighted blanket. This calculator follows best practices for choosing the right weight for a weighted blanket and takes into account your individual bodyweight.
Weighted blankets are personal and we recommend using 2 separate ones, according to your weight preference.
What Does the Odonvide IKEA Weighted Blanket Feel Like?
The Odonvide weighted blanket is a popular choice for those looking for a cozy and soft feel. The available wide range of IKEA duvet covers helps to give the blanket a premium feel and makes it comfortable to use.
When you first get the Odonvide Weighted Blanket, you will notice that the weight is evenly distributed and the beads are spread evenly. This makes it so that you feel the pressure of the blanket in a consistent way.
The Odonvide Weighted Blanket has been designed to help people achieve deep relaxation and stress relief. The polyester batting helps to mask the presence of the beads, making it less noticeable. Furthermore, the cover is removable and machine-washable for easy cleaning.
Is the IKEA Weighted Blanket Good for Hot Sleepers?
The Odonvide Weighted Blanket is a thin blanket that doesn't use special cooling, moisture-wicking or breathable materials. This means it's more warming than cooling. Some people who tried the blanket found that it was too warm to be comfortable, while others liked the weight and found it helpful for sleeping. People who loved how warm and cozy the blanket was were also happy with how it helped them fall asleep.
Is the IKEA Weighted Blanket Good for You?
The Odonvide Weighted Blanket is claimed to provide relief from a variety of conditions, including anxiety, depression, pain, and insomnia. It is a good choice for people who love a soft feel and would like to get a durable weighted blanket because it is well-made and high-quality for the bucks.
Who Should Try the IKEA Weighted Blanket
Anyone who has ever used a weighted blanket should try the new IKEA Weighted Blanket. The Odonvide Weighted Blanket is designed to provide Deep Pressure Touch and is claimed to be the most widely available good quality and affordable weighted blanket on the market.
IKEA Weighted Blanket Complaints
In general we were satisfied with the IKEA Weighted Blanket but there were some concerns which need attention. Here are some some complaints We collected during our test phase.
Missing loops
The biggest complaint is that the inner weighted blanket can slide around in the duvet cover. Reason is that you cannot tie the inner blanket to the cover – simply because there are no loops on the cover. If you are a regular weighted blanket user you may be used to a simply solution which prevents the blanket from sliding around inside the duvet cover – almost all weighted blanket producer provide loops which are for tying them to the blanket and that is how it keeps the weighted blanket in place within the cover.
IKEA decided not to provide these loops. The reason could be about compatibility: this way all the existing covers can be used with the weighted blanket. Which is also a good news and a bad news.
Average Quality Material
The blanket was tested in different ambient temperatures to see how it would perform in all conditions. In the end half of the users were complainig that it was too hot and half of them that it was too cold. But almost all of them notices that the cotton shell of the weighted blanket is too thin, it looks like very vulnerable.
Weight is not optimal
Some people have said that the blanket is too heavy and makes them feel trapped. However, these complaints are not common and most people love the product especially that there are many weight options and IKEA is even open to return change the product when it is not damaged or used.
Placebo effect?
People had mixed reactions to the IKEA Weighted Blanket, with some finding it relaxing and others feeling like it was a placebo effect. People who have trouble sleeping found that using the Odonvide Weighted Blanket made sleeping easier. The blanket helped these people fall asleep quickly and stay asleep through the night.
Safety of the Odonvide Weighted Blanket
One of the most important features when choosing a weighted blanket or any other type of wellness product is that it can be removed by your child themselves should they become uncomfortable with its weight and need to remove it at any time during their use. This prevents what could potentially happen if an adult were to put on such a heavy weight without warning–that would be extremely unsafe as well as difficult and impractical for children who may not understand how different situations trigger feelings that cause them anxiety so easily.
We recommend waiting until children finish puberty before engaging them with such devices as a gravity blanket for health and safety reasons. This product is not suitable for children under 12 years of age, which is a common restriction found in many weighted blankets on the market today.
Care instructions for Odonvide
The Odonvide Weighted Blanket from IKEA care instructions:
Hand wash warm water.
Do not bleach.
Do not tumble dry.
Do not iron.
Do not dry clean.
The material can be hand-washed or wiped dry with a damp cloth and then air-dried.
Read more about how to wash a weighted blanket.
Sustainability & environment
By buying a product which was created from renewable material like cotton and from recycled materials like the PET polyester filling , you can reduce the amount of raw material depletion and our impact on the environment.
Covers for IKEA Weighted Blankets
IKEA is a well-known and popular furniture company with stores all around the world. It is often a go-to for bedding, as their products are affordable and stylish. The duvet covers are made of high-quality materials and keep you warm and comfortable all night long.
Different Types of Filling, Sizes, and Colors
IKEA offers a wide variety of duvet and duvet cover sets in different sizes, colors, and types of filling. You can find the perfect set to fit your needs and style. Currently, IKEA offers a wide variety of duvet cover sets to choose from. You can find different colors, sizes, and materials to fit your needs. In addition, the prices are very affordable so that you can get a good night's sleep without breaking the bank.
The IKEA duvet cover is a popular choice for people looking for a warm and comfortable bedding option for their weighted blankets. The cover is designed to keep you warm during the winter months, and it can be easily washed and dried in the machine.
Are IKEA Covers Any Good?
IKEA covers are some of the most popular on the market and customers love them for their affordability, quality, and long lifespan. In fact, IKEA duvets have been known to last up to ten years with proper care. IKEA duvet covers are a great value for your money, but to keep them looking new for as long as possible, you'll want to avoid exposing them to excessive dirt, dust mites, pets and cigarette smoke. However, they may not be the best option for people who are looking for high-quality bedding.
What Thread Count Do IKEA Covers Have?
IKEA comforter covers are made with a thread count of 100 – 300, depending on the set that the customer purchases. This is to ensure that the customer gets a high-quality product that will last for a long time.
Thread count is an important factor to consider when purchasing bedding, as it affects the comfort and durability of the product. A higher thread count means a softer and more luxurious fabric, while a lower thread count is cheaper but may not be as comfortable or durable. IKEA duvets come in different thread counts, so consumers can choose what's best for them.
How Do You Care For IKEA Covers?
IKEA Covers are a great way to sleep comfortably on a budget. They are lightweight, easy to store and easy to care for. You can even wash them in the washing machine. IKEA covers should be washed at 140 degrees Fahrenheit in order to kill any dust mites and bacteria. Duvet covers are usually made of 100% cotton, but they can also be made of other materials, like polyester. Thread count is not always listed on the product label, but it's usually around 100-300
IKEA recommends dry cleaning only for duvet covers that are stained or have pet hair on them
How do you wash an IKEA duvet cover?
Turn the duvet cover inside out.
Machine wash on a cold setting with a mild detergent.
Tumble dry on low heat.
Iron on a low setting.
Don't use bleach.
Don't dry clean.
Conclusion
The IKEA cover line is designed for various sleepers, with products that range from the inexpensive to the luxurious. Customer reviews and social media can provide a good idea about the product, but it's also wise to read product reviews from independent sources.
Is IKEA bedding good?
IKEA bedding is great because it is very affordable and has a wide range of colors, patterns and styles, it is easy to clean and maintain, and it is also very durable. However, some people have complained about the quality, so it might be worth considering other options if you are looking for high-quality premium bedding.
Customers have been happy with their purchase of IKEA duvets, even after having the product for 3+ years. IKEA duvets with feather filling are preferred as these were found to better hold the warmth, while still keeping cool in the warmer months.
If you're looking for a great comforter from IKEA, look no further than the FJÄLLARNIKA comforter. It is filled with a blend of 90 percent duck feathers and 10 percent, duck down. If you are looking for a weighted blanket ODONVIDE is the best choice.
On the other hand, some people complain about the quality of IKEA bedding, especially the fabrics. The thread count is often lower than what people are used to, and this can result in uncomfortable bedding but IKEA does have a wide range of affordable bedding options for people to choose from.
Conclusion
The Odonvide IKEA Weighted Blanket is a good option for people who are looking for relief from pain or pressure while they sleep. The blanket's weight and the added pressure can help to improve blood circulation and provide relief from tension headaches, neck pain, and joint pain.
The Odonvide IKEA Weighted Blanket is made with high-quality materials that make it a durable product. The blanket is designed to evenly distribute your body's weight, providing a sense of calm and relaxation. It can help people who suffer from anxiety, stress, or insomnia get the deep sleep they need.