Initially weighted blankets were designed as a therapeutic solution for people with autism, anxiety, and post-traumatic stress, sensory disorders but nowadays people use it more widely.
Imagine feeling re-energized, healthier, and happier after a single night's sleep. Do you like it? Then it might be worth considering a weighted blanket. Using a weighted blanket you don't have to dream about being better, you can experience it.
Sleep right through the night like never before
Relieve stress and anxiety the natural way
Give your mind and body the rest they need
Wave goodbye to sleepless nights for good
How to choose a Weighted blanket?
We collected all the information about how to choose a Weighted blanket – a complete Weighted Blanket Buying Guide has been born where we explore the different aspects to consider when buying a heavy weighted blanket.
What is the Best Weighted Blanket?
The question remains the same every time: What is the best weighted blanket currently available on the market? Well, we have reviewed many of them and here are our Top 8 Best Weighted Blankets of 2020:
Why You Should Trust Us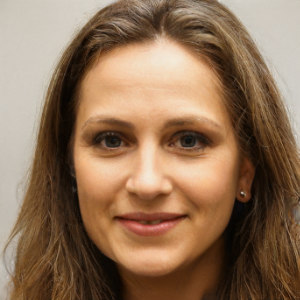 Your Guide
Lez Taylor

I am Lez, CEO of Corala Blanket. I consulted with as many medical professionals and sleep experts as I could find, and decided I would be the one who created the weighted blanket the world had been waiting for.

We designed and manufactured the world-known Corala Blanket, the Premium Quality Weighted Blanket. The result was the best product of its kind on the market, but we finished manufacturing it last year.
During these years we have collected many sleep and manufacturing professionals to continuously monitor the weighted blankets around the world.
Now we publish here our internal secret weighted blanket reviews for good.
How we tested
These weighted blankets were carefully selected and tested by me, by our team members and by our experts at Corala Blanket. Our experience in the production, manufacturing and sales of the Corala Blanket has enabled us to be able to review other makes of weighted blankets objectively and fairly.
What is a Weighted Blanket?
The aim of a weighted blanket is to mould to your body so as to help relax the nervous system. The weight of these blankets acts as a form of deep touch therapy and works on the deep pressure touch receptors that are located all over your body.
Once these receptors are stimulated the body is able to relax and at the same time feel grounded and safer. Some studies have suggested that when deep pressure points are triggered the brain can increase serotonin production.
Typically, weighted blankets are made with glass beads or plastic poly pellets that are sewn into compartments throughout the blanket in order to keep the weight of the blanket properly distributed over the body.
Weighted blankets have been medically proven to aid naturally deeper sleep cycles. The weight on your body not only stimulates the production of serotonin (the happy hormone), but it also reduces cortisol (the stress hormone), and increases melatonin, which helps you to fall asleep.
Are You Getting Enough Sleep?
Many people continue to try and slip by without getting enough rest, and that leads to long-term issues that can be harder to recognize and later treat. You want to be sure that you are getting enough sleep if you want go on in you every day life.
---
Best Organic Weighted Blanket
Bearaby Cotton Napper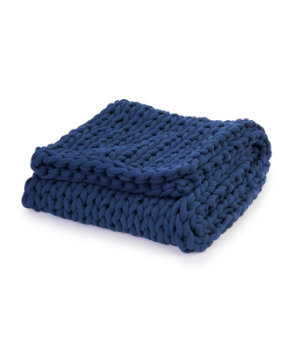 The Organic Weighted Blanket
This is an extremely stylish, soft and breathable blanket made with organic cotton and ideal for use through all the seasons. This chunky-knit Cotton Napper is extremely effective in helping an individual to sleep more deeply and wake up feeling well rested.
Best for
Easing your anxiety as well adding style and a modern eco-friendly weighted blanket to your home is well worth the money.
This blanket works wonders on individuals who suffer from anxiety. Many users have reported that their anxiety eased and that they also felt physically calmer when using their Bearaby Napper. The Bearaby Napper is designed to help users sleep better and also relieves anxiety by reducing the brains production of stress hormones.
Features
These blankets are pre-washed for extreme softness and are made from 95% cotton and 5% spandex. Organic cotton is known for being naturally breathable as well as totally biodegradable.
Organic cotton is known to use 85% less water than conventional farming methods and is free from harmful chemicals, pesticides, synthetics, or artificial softeners.
Sizes: The Bearaby napper comes in three different weights:15 lbs – 40″ x 72″, 20 lbs – 45″ x 72″, 25 lbs – 48″ x 72″
Colors: The Bearaby Napper is a one-piece weighted blanket; however, you can put your own bedding on top of it if you want to change the look. This blanket is available in moonstone grey, asteroid grey, midnight blue, evening rose and milky way.
Materials: This blanket is hand-knitted so it is sometimes hard to find stock. The material, being 95% cotton and 5% spandex allows for a little stretch and the blanket holds its shape extremely well. The cotton is pleasant to the touch and comfortable and cool against the skin.
Pros
This is a very attractive blanket
Made from hand knitted cotton
No artificial fills or materials
Eco friendly, soft and stylish
Breathable in hot weather
Excellent for day and night use
Can be machine washed and dried
Cons
This is a relatively expensive blanket.
Can take two drying cycles.
No extended warranty
Customers Reviews
Customers have reported this blanket as being extremely popular due to its aesthetic, eco-friendly and anxiety-reducing qualities.
The Napper has assisted many individuals to sleep soundly.
"I tested the Napper from Bearaby, A stylish weighted blanket that is particularly popular on Instagram because of its aesthetic, eco-friendliness, and anxiety-reducing qualities."
Tips for Washing and Care
Wash separately in cool water on a delicate or permanent-press cycle.
Tumble dry on a low setting. The Napper may take more than one cycle to be dried fully.
Avoid hanging up to dry as it can stretch the loops out of the blanket.
---
Best Cooling Weighted Blanket
Gravity Blanket
The Cooling Weighted Blanket
Gravity Cooling Blanket assists you to stay cool during hot summer nights. This blanket is soft and durable and at the same time extremely breathable.
Best for
These blankets work best to keep you cool and limit the chances of waking up during hot summer nights.
Gravity Blankets are therapeutic weighted blankets. These blankets use the power of weight to relax the nervous system so as to help you improve your sleeping patterns as well as reduce stress and anxiety to promote relaxation.
Features
This is a luxurious, therapeutic cooling comforter that features a revolutionary breathable fabric. This fabric helps to keep moisture at bay during use and can help you to feel fresh and rejuvenated when you wake up.
The Gravity Cooling blanket is made from precise gridded stitching to ensure that the glass beads that make up the weighted blanket remain properly distributed. This blanket is one of the best weighted blankets and cooling comforters currently on the market.
These blankets help you to sleep stress-free by adding a little gentle pressure to improve brain function and cognitive abilities and is a best-seller for those who suffer from ADHD or Autism.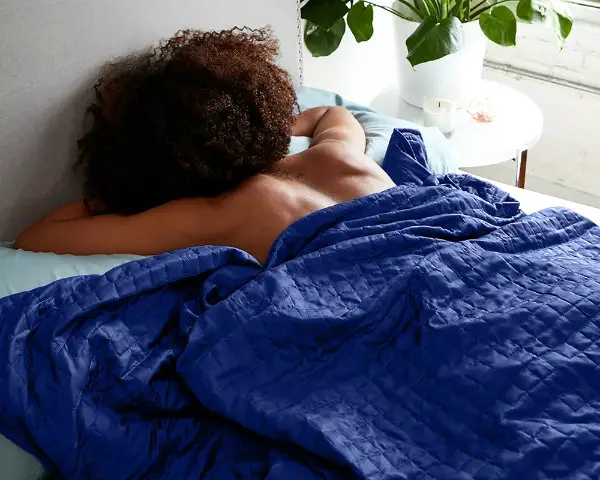 Sizes: Single size (72" x 48", 15-20-25lbs) , Queen or King (90″ x 90″, 35lbs)
Colors: These Cooling Blanket comes in three modern neutral colours (Grey, Navy, or White) and are a perfect fit with the bedroom or the couch and can match well with any other colours.
Materials: Each blanket has a premium duvet cover that is made of a breathable material designed to control body temperature. The inner weighted piece contains fine-grade glass beads that are hypoallergenic.
Pros
Keeps you cool
Prevents your from moving and fidgeting in your sleep
Good quality product

Helps you to stay asleep for longer
Cons
It can be difficult to transport
There are cheaper blankets
Customers Reviews
Customers say that they tend to relax right away once they are in their Gravity blanket. This helps them to fall asleep easily. Other users have also said that if they awaken, they tend to go back to sleep right away which assists them in conquering insomnia.
"I love this blanket! It keeps you warm without making you sweat. It has improved sleep as well. Highly recommend!"
"Great blanket and very comfortable. Very well made."
Tips for Washing and Care
This weighted blanket is washable with other similar colors. Use a non-chlorine bleach, tumble dry on low and cool iron if needed. It is recommended to only wash the weighted insert by hand. The Gravity Blanket can also be dry cleaned.
The breathable blanket cover is easily removable, making cleaning a stress-free experience.
---
Best Affordable Weighted Blanket
YnM Weighted Blanket
A Cheap Weighted Blanket
If you are looking for a blanket that offers value for money and helps ease anxiety and insomnia, then YnM is the answer. This is one of the most popular weighted blankets amongst those who would like to sleep more soundly and ease their anxiety.
This weighted blanket has been designed to mimic the sensation of being held while at the same time offering both calming and breathable pressure. This blanket provides excellent comfort so as to help you to achieve a good night sleep.
Best for
YnM Weighted Blanket takes the prize in being the best value for money. It is perfect for those who suffer from anxiety and sleep disorders and cannot afford to purchase a top of the range weighted blanket. It can also help to relieve the symptoms of various other conditions such as PTSD, restless leg syndrome, chronic worrying, chronic pain and fatigue. The soft and durable material can assist users to curb their anxiety and achieve a good night's rest.
Features
This blanket is 100% cotton and is made from quality well stitched material. It is also hypoallergenic, odourless and non-toxic. This weighted blanket has a 7-layer system that is designed to surround your body and take on your form and shape while you sleep.
This blanket is handmade with environmentally friendly and non-toxic elements.

The fiber fill and nontoxic sand-like glass beads make this blanket the ideal combination for pressure and breathability.

Ideal for people who are prone to allergies.
Great range of weights and sizes
This design uses additional glass beads and fewer fiber fillings to provide you with better temperature control. The glass beads are sewn into the compartments so as to prevent movement and noise when you are sleeping. These blankets are incredibly durable and can last a very long time if looked after properly.
Size: Great range. The YnM blanket is available in six weights (5, 7, 10, 15, 17, and 20 pounds) that are suitable for adults. It has been designed to accommodate those who are looking for minimal-to-moderate pressure as well as those who prefer deep pressure.
Color: Dark Grey, Light Grey, Deer, Penguin, Polar Bear
Materials: 100% Natural Cotton & Non-toxic Glass Beads
Pros
 Comes in an array of sizes that will accommodate almost any weight and shape.
Fits twin, full queen, and queen beds.

Can be used to assist with health conditions such as restless leg syndrome, anxiety and insomnia.

100% Money back guarantee if you are not satisfied with the product.

 Very cost effective

 Non-toxic and easy to wash
real glass beads
OEKO-TEX® 100 certified – guaranteed safe for all ages
Cons
Does not come with a removable cover however a compatible duvet cover can be purchased.
Can be too hot for some users during warm nights due to its weight.

May feel slightly uneven for those who are extremely sensory sensitive.
Customers Reviews
Many people have said that this blanket has revolutionized the way in which they sleep. The only complaint was that it made them sleep so comfortably that they wanted to carry on sleeping. It did, however once they got out of bed make them feel well-rested and physically revived.
Many customers say that this blanket is surprisingly heavy and makes them sleep like a rock. Overall a good, well-made weighted blanket that is reasonably priced.
"I felt so comfortable, it was as if my biological wake up clock refused to work, making me want to sleep more and more."
Tips for Washing and Care
YnM weighted blankets can be washed and dried in conventional machines on a gentle, low cycle if they are 12 to 15 pounds.
For heavier blankets, it is recommended to take these blankets to a commercial laundromat with stronger machines
---
Best Weighted Blanket for Kids
Mosaic
Weighted Blanket for Kids and Teens
Sometimes getting your child to bed can be a bit of a challenge. The Mosaic weighted blanket was designed to assist parents to get their children to fall asleep quicker and for longer periods of time. Both children and teenagers can benefit from the uninterrupted sleep that this weighed blanked can provide.
Best for
These weighted blankets are ideal for children and teens. Mosaic weighted blankets utilize deep pressure touch which triggers a relaxing sensation in the nervous system. This can easily be compared to why babies fall asleep when swaddled.
Features
The Mosaic Weighted Blanket for Kids was designed to provide a comfortable body hug that helps its users to fall and remain asleep more easily. They produce an incremental rise in serotonin levels and melatonin levels and a reduction in cortisol levels. These weighted blankets are hand sewn with funny motifs which makes it perfect for the younger generation.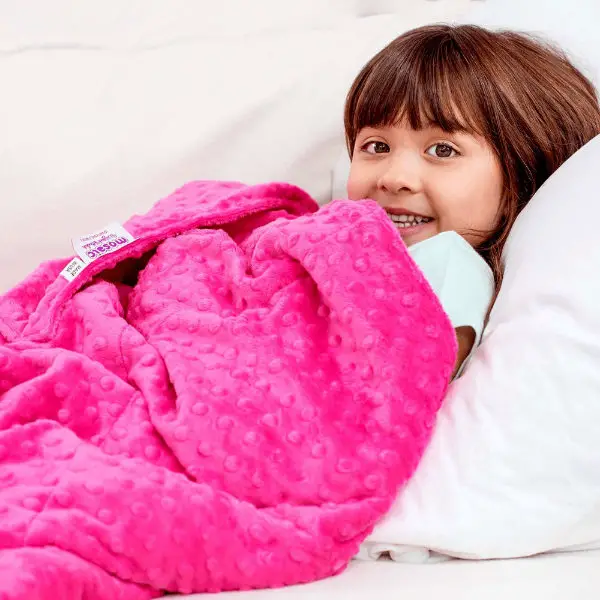 Materials: Mosaic Weighted Blankets are made from pure cotton or minky fabrics and filled with non-toxic, hypoallergenic, BPA-free plastic pellets. The quilted squares on these blankets help to ensure that the pellets remain distributed evenly across the blanket. Each pocket is also cushioned with a little bit of polyfill.
Sizes: These blankets come in a variety of weights, ranging from 5 to 25 lbs and are also available in different sizes, including twin, full, queen, and king size. They also are available in a small size (38" x 50") a throw size (38" X 60") and a twin size (42" X 72") to fit your child or teen. It is recommended to choose a blanket with 10% of body weight for kids.
Colors: The blankets are available in different funny colors and patterns
Pros
Handmade to order & custom-sewn.
BPA-free, hypoallergenic, FDA-compliant plastic pellets.
Choice of cotton or minky fabric shell
Offers a variety of weights, sizes & designs available
30-night sleep trial
Cons
Customers Reviews
Parents of children and teens have said that these blankets help to calm down and relax their children at any time of the day or night and can be a healthy solution for many types of disorders.
"Once you child has one, you will see how much they will naturally gravitate to it, and how good it makes them feel. It really does calm the mind, body and spirit."
Tips for Washing and Care
Mosaic kids blanket usually weighs below 12 pounds so you can machine wash and dry it at home. Mosaic does not recommend dry cleaning their products. Fortunately, the duvet covers can be machine washed on cold and dried in a dryer.
For heavier blankets, it is recommended to take these blankets to a commercial laundromat.
---
Best Weighted Comforter
Baloo Weighted blanket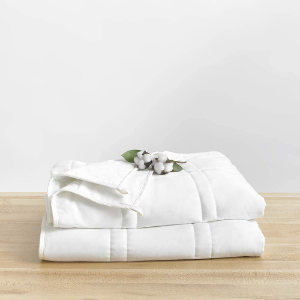 A real comforter
The Baloo weighted comforter moulds to your body like a gentle hug and helps in aiding the mind and body to calm down in order to assist with deeper sleep. This comforter does not trap heat and is cool enough to use all year round. If you are looking for a weighted comforter then this is the way to go.
Best for
Baloo comforters encourage a natural calming effect to ease anxiety and encourage deeper and sounder sleeping patterns. They are designed to gently apply weight to the body simulating the effects of deep pressure touch. When it comes to weighted comforters the Baloo is an excellent choice.
Features
This comforter drapes over the sides of the bed much like traditional bedding. It is weighted with glass microbeads in the center, where it covers the top of the bed rather than all the way to the edge. This makes the comforter feel more comfortable.
Materials: This weighted blanket is made of natural materials only: 100% premium cotton outer fabric and inner batting. This has been designed for its softness, breathability, and durability. Glass microbead fill that is cool enough for all climates.

Sizes:
Full/Queen Comforter (90×90 in.): Weighted area 15 lbs or 20 lbs
King Comforter (92×108 in.): Weighted area 25 lbs
Color: Pebble White
Customers Reviews
Customers have said that they more often than not achieve at least 8 hours of restful deep sleep with this comforter. They also experience much less tossing and turning during the night.
"I did a lot of research and read lots of reviews and finally settled on this one. It has been wildly successful in improving the quality and duration of my sleep."
Pros
The fabric is 100% cotton, cool and breathable. 
If you are not pleased with Baloo they offer a full refund or replacement.
A real traditional comforter size which overhangs
Baloo is an American company
Does not bunch up very much and the filling does not shift.
Easy to clean.
Cons
Duvet cover not included but you can purchase it separately
Tips for Washing and Care
A commercial washing machine is recommended due to the blankets larger size.
Machine wash cold on gentle cycle.
Tumble dry on a low heat.
---
Best Weighted Blanket for adults
Layla Weighted Blanket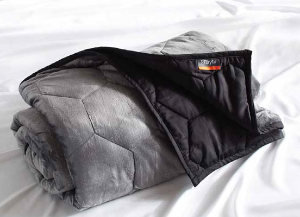 Dual Therapeutic Comfort
If you battle with insomnia, then the Layla weighted blanket is definitely for you. This blanket improves sleep quality as well as reducing feelings of stress and anxiety. The blanket delivers Deep Touch Pressure to the body that could almost be described as the feel of an embrace. The Layla weighted blanket alleviates feelings of restlessness so that you can look forward to a sound night's sleep.
Best for
The Layla dual side weighted blanket is best for people who are suffering from insomnia and other sleeping disorders. This is a solid option for those who are looking for a heavy and versatile blanket to combat their insomnia.
The cotton side of the blanket makes it ideal for warmer weather while the reverse side is perfect for cooler nights. All in all, an excellent choice for insomniacs.
Features
The top side of the blanket is made from soft, mink-like fur, while the bottom side is made of 100% cotton. Together with Layla's signature hexagon pocket stitching the Layla blanket not only feels good, it also looks good. It is filled with high density micro glass beads that are sewn between the pockets of a polyfill that eliminates noise and provides an even distribution throughout the blanket.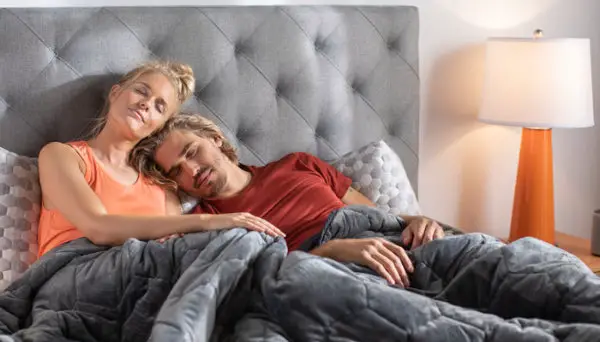 Materials: The top side of the blanket is comprised of a mink-like fur, with attractive hexagon pocket stitching that has been filled with micro glass beads. The bottom of the blanket is made of cotton.
Sizes: Twin (15 lbs), Queen (20 lbs), King (25 lbs),
Color: Dark grey
Customers Reviews
Customers say that they have been suffering from insomnia for months and have been almost completely cured. This blanket stays in place during the night and the weight is wonderfully distributed throughout the blanket. The design is elegant and beautiful. It eliminates insomnia and ensures for a good night's sleep.
"So much less tossing and turning!"
Pros
You have 120 nights to try the Layla® Weighted Blanket.
Dual-sided and made with cotton and polyester mink
Filled with high density micro glass beads
The user receives a 120-night sleep trial with five-year warranty
Free shipping within the U.S.
Cons
Only one color and design to choose from (but we like it)
Tips for Washing and Care
The Layla Weighted Blanket can be washed in a conventional washer and dryer
---
Best Weighted Blanket for Couples
Rocabi Deluxe Weighted Blanket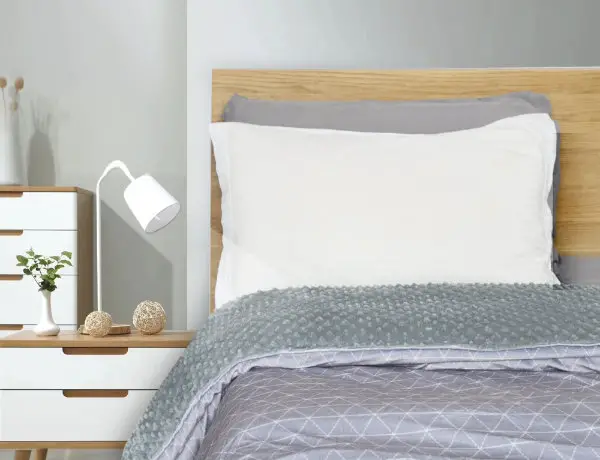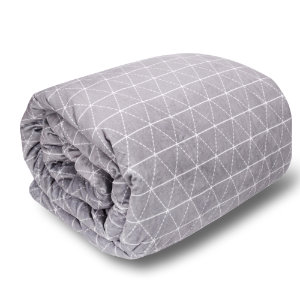 Rocabi Deluxe Weighted Blanket
King size for couples
Are you looking for a weighted blanket that can be used by both you and your partner then take a look at the Rocabi Deluxe weighted blanket. Inspired by the feeling of being held, Rocabi created a weighted blanket that enables better, deeper, healthier, sleep. This weighted comforter which mimics a hug and applies gentle compression to your body creates a sensation of being hugged and encourages you to feel relaxed, calm and sleepy.
Best for
Best for couples and people who are suffering from anxiety, post-traumatic stress disorder or insomnia. Most couples who have used this blanket have given mostly positive reviews about this blanket. These people remained relaxed, calm and slept for longer hours when using this weighted blanket.
Features
This weighted blanket includes a soft, removable, Minky Cover with a concealed zipper and cool breathable inner. It is large enough to share and customers are able to choose from sizes between 60 x 80 inch (queen size) and 80 x 86 inches (King size).
These weighted blankets complement every bedroom and are made with only premium materials including, corner snaps and glass beads.
They are double stitched into pockets that provide an even weight distribution with no leaking of beads or Clumping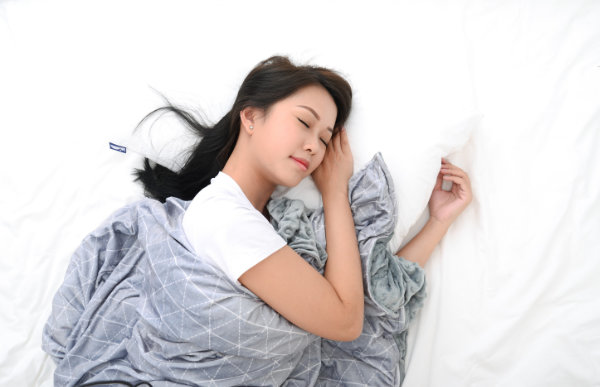 Materials: This weighted blanket is made with heavy glass beads that provide support as well as even weight distribution. The inner is made from 100% organic cool cotton. The removable cover incorporates "Textured Dots" for Sensory Feedback
Color: Grey, pattern: Geometric
Size: Queen size 80 x 60 or King size 80 x 86, and weight is 15,20,25, or 30 lbs
Customers Reviews
Customers have admitted that although it is heavy, once you are under it, moving is wonderfully difficult and that is exactly what they were looking for. Other customers say that it's not hot at all and that the heat doesn't build up as much as they had expected.
"If you have wondered if the price is worth it, let me assure you that it is."

Pros
60 Night Free Trial – Includes a 365 DAY WARRANTY and 60-day trial
A solution to anxiety and sleep problems
Made from quality and premium materials with a high level of craftmanship
No leaks guaranteed
Comes with a zipped-up cover
Corners have ties to prevent clumping
Cons
Tips for Washing and Care
Use only warm water. Add laundry detergent that does not contain bleach to your washing machine. Thereafter, air dry if possible. If you want to use your tumble dryer than make sure to put it on a low cycle with a gentle heat.
---
The Best Bamboo Weighted Blanket
Luxome Bamboo Weighted Blanket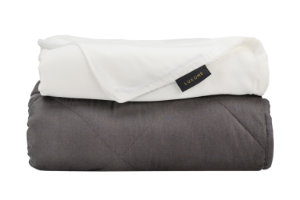 Luxome Bamboo Weighted Blanket
Bamboo cooling in action
The Luxome weighted blanket is made from bamboo lyocell which is known for its eco-friendly, antibacterial, and moisture-wicking properties. Each blanket has a 100% cotton interior shell for breathability and added softness.
These components help to wick away moisture and heat while the hollow fibers of bamboo help to dissipate body heat instead of retaining it.
Best for
This weighted blanket is best for those who are seeking a blanket that is eco-friendly and has an integrated organic bamboo cover. Luxome weighted blankets are made from bamboo lyocell and are extremely eco-friendly, antibacterial, and moisture-wicking.
Features
This blanket allows for the choice of a removable or integrated cover. It is made of 300 thread count bamboo lyocell or a combination of minky fabric and bamboo lyocell.
The fill of each Luxome weighted blanket is evenly distributed and the small square pockets are not overly filled. The polyester fiberfill helps to prevent the glass microbeads from shifting too much and weight bunching is prevented by sewing 1mm glass beads into small square pockets to prevent the beads from shifting. This combination also allows the blanket to hug the body closely. The Luxome weighted blankets are both breathable and hypoallergenic.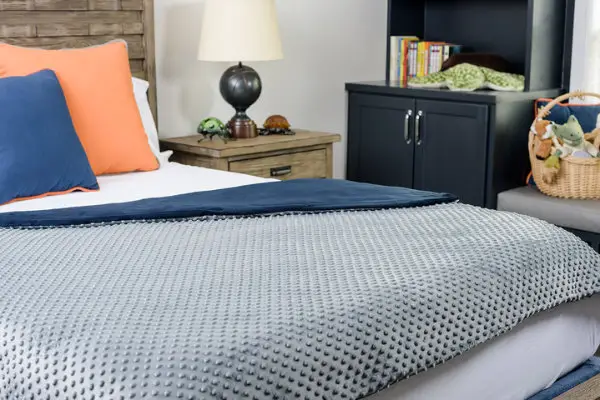 The Luxome range comes in three collections of weighted blankets. These integrated cover weighted blankets have a premium cover that is sewn directly onto the weighted blanket and cannot be removed.
The removable covers have a cotton shell interior blanket and a removable outer cover. This can be made of bamboo-derived lyocell, a minky fabric, or a combination of the two.
Luxome blankets are produced in a range of sizes and weights. Each size is only available in one weight.
Size: Luxome blankets are produced in a range of sizes and weights. Each size is only available in one weight: Small: 8 pounds, Medium: 15 pounds, Large: 18 pounds, Extra Large: 30 pounds
Materials: Each blanket has the same glass microbead and fiber filling and have different cover options available.
Customers Reviews
Users of the Luxome weighted blanket have said that the craftsmanship exceeds so many of the other weighted blankets that they have seen in the past. They also say that you cannot even feel the small beads and there is no shifting. Others also say that the Minky Cover is beautiful and very soft, and the blanket is washable.
"After reading a bunch of reviews I landed on this one and I couldn't be happier. It's exactly what I was looking for. It's machine washable and it's not hot like the other one. You won't be disappointed if you buy it."
"This is a superior blanket and I plan to purchase another one very soon. I will definitely stay with the LUXOME blankets."
Pros
Good quality
Eco-friendly 
High tech with features like cooling, antibacterial capability, and thermal regulation
These blankets and sheets are offered in a variety of colors
30-day return policy for all products
Cons
Only one weight available for each size
More expensive than regular blankets
Tips for Washing and Care
These integrated blankets do not have a removable cover and are entirely machine washable. Due to the premium fabrics and higher thread counts Luxome weighted blankets can be washed and dried in all types of machines on delicate cycles.
---
How Do Weighted Blankets Work?
When a person is stressed or anxious their heart tends to beat too quickly. Lowering the heart rate can lead to feelings of calmness. Pressure that is provided by weighted blankets has the ability to calm a person by activating their parasympathetic nervous system. This in turn lowers the heart rate when a person is stressed. A lower heart rate leads to an overall feeling of calmness.
Weighted blankets work in a similar way to an OT technique that is known as deep touch pressure therapy. Pressure on the body can increase the release of serotonin in the brain which creates a sense of overall calm and well-being. This pressure therapy has a similar feel to being hugged, swaddled, stroked, or held.
How to Use A Weighted Blanket
How to use the blanket
Cover your entire body from the neck down and ensure that is it covering both your chest and legs. Your feet do not need to be covered if you do not want them to be.
To get the best results lie on your back while sleeping under the cover so as to ensure that the blanket's weight will be evenly distributed across your entire body.
Washing your Weighted Blanket
When choosing a weighed blanket, it is essential to make sure that it is going to be relatively easy to wash. Try to choose a washable weighted blanket that has either poly pellet, glass beads or steal shot fillers and avoid fillers that are organic as they can sometimes decompose when wet. This can create mold inside your weighed blanket. Before you attempt to wash your weighted blanket, it is important to check for any stains that may require some pre-treatment before washing. Also check for any damage or tears on the blanket. If you do find a tear, then mend it before you place it in the washing machine.
When you are machine washing your weighted blanket, first consider its weight and size. Some blankets may be too heavy to wash in a conventional washing machine and may require a laundromat or a professional laundering service. This can spare your machine from any unnecessary wear and tear.
Weighted Blanket Benefits
Weighted blankets help to prepare your body for resting by calming your heart rate and allowing the body to calm down so as to get the deep sleep that it needs. Based on clinical trials countless health conditions can utilise the benefits of weighted blankets.
Children can also benefit greatly from a weighted blanket as it allows them to avoid distractions from other sensory stimuli and sounds that surround them. This can cause an overall increase in attention span and allow them to remain focused and fidget less.
Other individuals who suffer from ASD tend to react badly to sensory stimulations such as noise and touch. The pressure from a weighted blanket can help to provide comfort and reduce the feelings of over stimulation and allow them to relax and get a decent night's sleep.
How a weighted blanket will change your life
Fall asleep quicker
Relieve stress and anxiety the natural way
Recharge your mind and body night after night
No more laying awake at night for hours on end
Natural materials keep you warm in the winter, and cool in the summer
Pros and Cons of Using Weighted Blankets
Pros of Sleeping with a Weighted Blanket
Weighted blankets can significantly improve the quality and length of sleep.
These blankets can be used to reduce anxiety and sleeplessness.
Provide a comforting and grounding experience for peaceful sleep and can help you to fall asleep faster.
Can help to reduce movement while you sleep.
The pressure from a weighted blankets can relieve stress for people suffering from ASD and improve their ability to focus on the task at hand.
Cons of Sleeping with a Weighted Blanket
Some people may find it hard to get out of bed due to their extreme comfort when sleeping with a weighted blanket.
Can be addictive as once you are used to sleeping with a weighted blanket you may battle to fall asleep without one.
These blankets can be quite costly.
It is important to keep an eye on children and animals who are under the blanket and it is also imperative to pick the correct weight when you are looking for a blanket for your child.
If you don't have the right blanket, you may get too hot in the summer. If you battle with the heat, then it is best to choose a cooling blanket.
It can sometimes take time to adjust to sleeping with a weighted blanket.
Weighted Blanket DIY
I think we have provided a lot of useful information on how to choose a weighted blanket and which ones are the best weighted blankets.
Now you can decide if it is best for you to buy a blanket or make one for yourself at home. Yes it's true! You can create your own weighted blanket DIY at home! The DIY option is way more cheaper but will require several hours or even days of planning, design and work.
Weighted Blanket FAQ
Can a weighted blanket be too heavy?
Using a weighted blanket that's too heavy could be less than effective and cause your system more stress instead of a good night's sleep. A blanket that is too heavy can also cause the individual to get too hot which can result in poor sleep. It is important to choose the best weight for your individual needs.
How long should a weighted blanket be used?
For those who are trying a weighted blanket for the first time it is recommended that they ease their way into it by using only half the blanket for the first 3-5 days.
Who should not use a weighted blanket?
Children under the age of three years old should not use a weighted blanket because of the risk of suffocation.
Are weighted blankets good for side sleepers?
While sleeping on your back does ensures that the weight of the blanket gets evenly distributed, weighted blankets are also beneficial for side sleepers. If you sleep mostly on your side, however, it is normally best to choose a blanket that's a little lighter.
Are weighted blankets good for back pain?
Weighted blankets have a unique ability to use therapeutic pressure so as to reduce pain whilst improving overall health.